India has been witnessing different education systems starting from Gurukuls in the ancient period to the school and college education in the modern era. There has always been a change as the industry grows.
The global education industry market size is valued at $ 3,300 billion in 2020 and is expected to witness a compound annual growth rate (CAGR) of 18% from 2021 to 2023.
The Indian market size is valued at $117 billion in 2020 and is estimated to reach $225 billion in 2025 with a 92% CAGR.
Factors for growth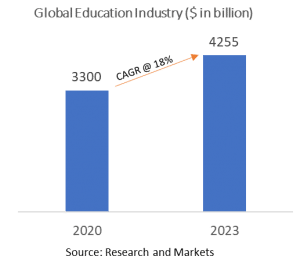 The education industry in India has a strong growth on the back of the fact that 27% of the country's population is in the age group of 0 to 14 years.
The Indian education industry comprises two broad categories namely Formal education and Informal education – which is Private tutorials & Coaching institutions.
Schools, colleges, and universities come under Formal education. Higher education plays a vital role as the number of new universities and colleges has gone up in the last two decades. Globally, India is ranked 1st in terms of the number of universities. India's higher education segment is expected to increase to $ 35 billion by 2025.
Covid -19 pandemic has hit hard, almost every industry and educational institutions were not immune, and many shut down and this forced students to evolve to new learning methods – mainly online learning. As a result, the education industry saw a boom in ed-tech, as students and teachers started moving online for their classes.
This brought high growth potential for the EdTech sector. Institutions and other education-related companies started providing a diverse and ample amount of short and long-form video courses.
Government Initiatives for the Industry
To cover all the aspects of adult education, the union government of India has approved a new scheme called "New India Literacy Programme" for the fiscal years 2022-2027 and also to align with national education policy 2020.
PM eVidya scheme was launched by the government in May 2020 to protect education during the Covid-19 pandemic. Under this scheme, the top 100 universities in India were allowed to start online courses.