India, the cash-dependent country, due to the initiatives started by Mr. Prime minister (Digital India), slowly started adopting the digital payments system. In November 2016, the Demonetization boosted this progress making everyone accept digital payments. Since then, the digital payments industry encourages and provides strong momentum for consumers to move towards cashless methods including in rural areas. At present, the Indian payment industry is evolving towards more consolidated, real-time mode, challenging the traditional beliefs of the bank. People (The Acquirer, Issuer and the Network) are as well evolving fast to embrace the new transaction processing methods and technologies.
India acts as the regional (The Asia Pacific region) powerhouse with payments, modernization, and innovation agenda driven by the NPCI (National Payments Corporation of India). To succeed in this era, one must have a clear understanding of the payments landscape and everything impacting it to meet the demands of modern business.
Digital payment method:
The Government is driving everyone to go cashless wanting to make everything digital. Digital payment is a seamless system where transactions proceed without the need for cash, through online and mobile channels. Consumers and organizations after adopting the system prefer digital payment methods than cash and cheque transactions.
Digital payments have developed as a principal tool to reduce the cost of rendering financial services. It is witnessing thriving growth with a compound annual growth rate (CAGR) of 12.7% in the number of non-cash transactions. For example, Paytm in India has built its system by adding their interface to retailers, brands, small retail enterprises, coffee shops, hotels, and much more, going to the extent of branching into street vendors, education sector by allowing people to pay for coaching classes through mobile wallets.
Benefits:
Going digital has led to a change in the way we make purchases. People enjoy online purchasing and shops like Amazon, Myntra, Flipkart, Ajio, Nykaa, and many others boost this process. According to a report, based on purchases, millennials are said to make the most out of this facility as it is easy and convenient with lots of benefits. Let's look at how it impacts the economy and making payment transactions easy.
Other benefits:
Digital Payment Market Revolution:
According to a PWC study, Digital payments in India will double to $135.2 billion in 2023 from $64.8 billion in 2019. A KPMG report said that the mobile payment transformation in the country has led to a boom in the number of merchants adopting digital payments with close to 1.5 million digital payment acceptance. In the last two years, tier 2 and tier 3 cities had registered firm growth for Unified Payments Interface (UPI) and card payments.
Source: Your story.
Globally, the study shows that India's share of the worldwide transaction value of digital payments increase from 1.56% to 2.02% in the next four years and to touch $10.07 trillion by 2026. Also, a survey study shows High earning millennials prefer to make the most usage of digital payments to average earning people.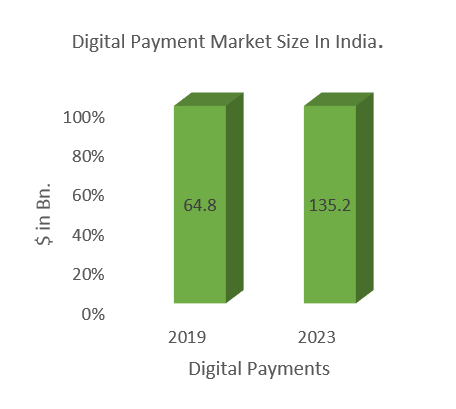 Source: Pwc.com
Digital Payment Wallets and Methods Used:

Digital Payment Methods Used In INDIA.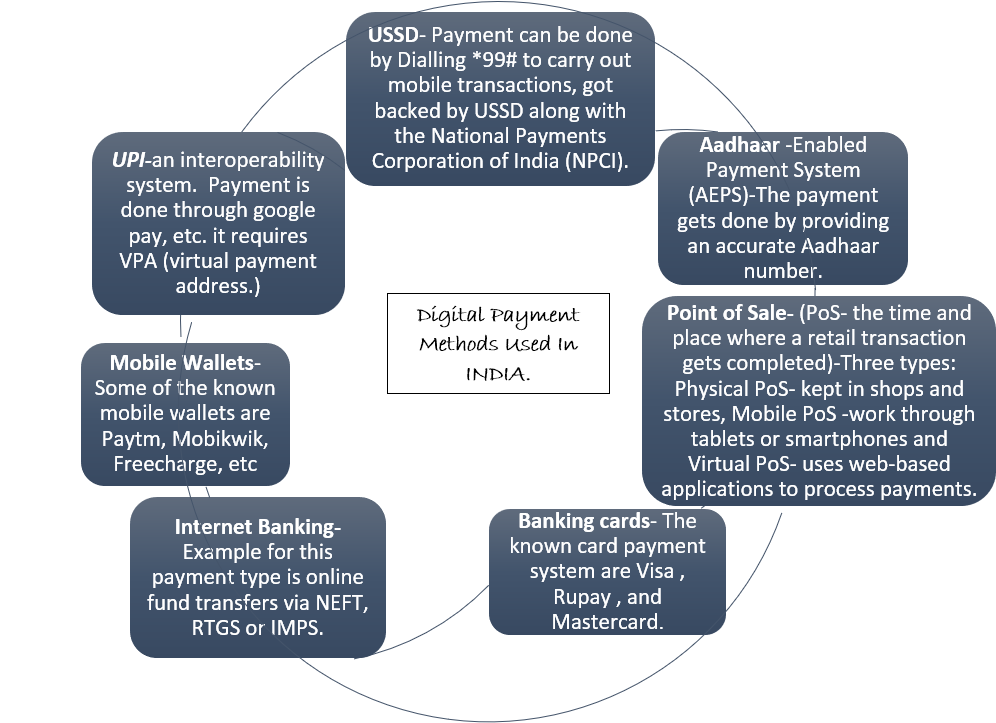 The Drivers: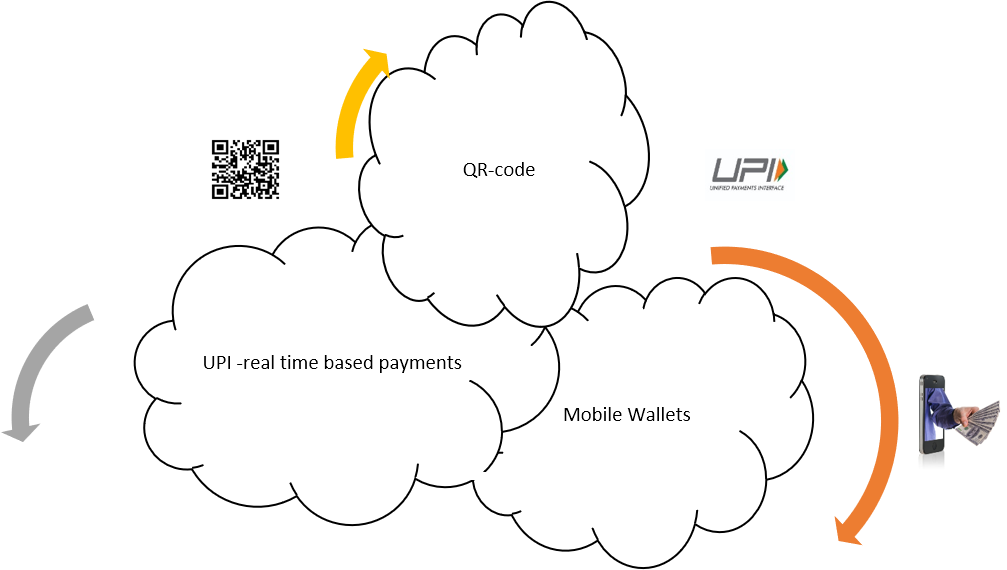 Mobile wallets, QR- code and UPI methods are the key players in changing the payment industry. The ease of payment and convenience were the highlighting factors.
The volume of the UPI transactions has increased over the period from 2016 to 2019 at CAGR of 246 %. Mobile wallets are fuelling the traction of UPI transactions through Google Pay, WhatsApp Pay (available in beta), etc.
Many financial institutes and e-commerce are introducing their wallets, which makes payments easy; for example, BookMyShow, SBI buddy, etc.
The QR-code based wallet with the low set up cost is ideal among merchants. Paytm claims to have acquired more than 5 million merchants using QR code (a technology for payments done by scanning QR codes from mobile apps to do electronic funds transfer at point of sale using a payment terminal).
Challenges of Digital Payments: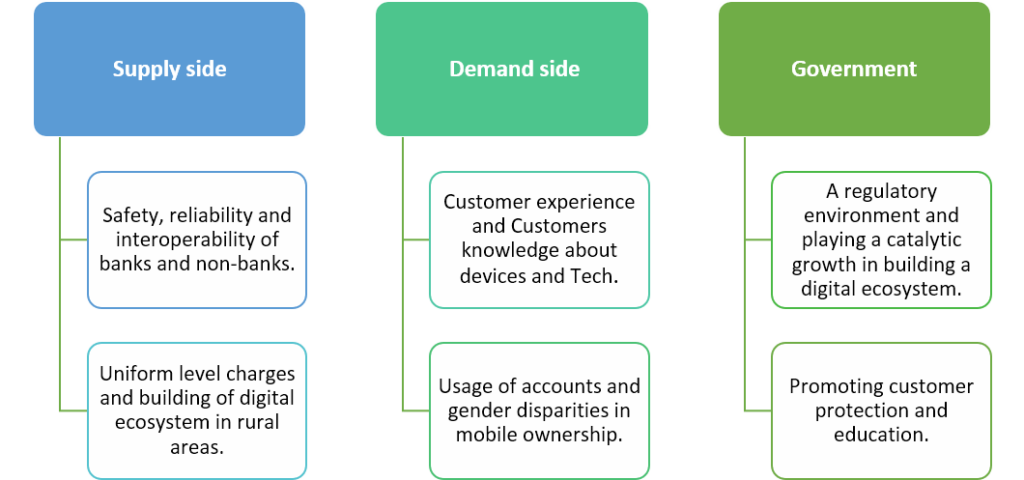 Risks in the payment landscape:
Cybercrime is a growing threat in the payment landscape, as the prevention of fraud and financial crimes becomes crucial in the economy. Major payment industry players like google pay, Phone pe, etc are building analytic capabilities to harness payment data for a better understanding of the consumer and to help financial institutions drive growth and assess risk.
The system of KYC (Know your customer) was introduced to easily trace the frauds and cheats, making it secure and transparent. Tokenization ("a process by which the primary account number (PAN) is replaced with a surrogate value called a token. De-tokenization is the reverse process of redeeming a token for its associated PAN value.") is also applied to prevent and respond to the data breach.
The future of payment:
Cash still plays the main role due to the lack of facilities in rural areas, which makes the cash circulation in India grow more even after demonetization The Payment Industry, to change this situation and to make India digital, depends on innovation and better creativity that brings changes, making digital payment method secured, and exciting to access anywhere, any point of time with many facilities.
With the challenges of risks, the new entrants catching up, the Payment ecosystem focuses on improving the infrastructure, technologies, risk protection, etc to make it easy for customers and improve customer engagement and make India, a digital country.
Here are some updates that are progressing.
• The contactless mobile wallets and data partnerships lead to contextualized offers.
• KYC leads to a better voice of customer measurement and threat protection.
• Digital onboarding to collect consumer data and identify customer needs promptly.
• Scalable machine learning for fraud alerts and the reduction of cyber risks.
Developments to be standardized for Payments in the future: