In the current situation with the COVID-19 pandemic, businesses across the globe are finding out ways to keep things running successfully with employees working from home and having meetings, conferences online. Many remote-based applications are helping boost employee productivity.
Investors are interested to see how business is being handled and how things will evolve in the coming days. However, they are deeply concerned about burn rates, liquidity, and exiting. Amid the situation, and are trying their best to turn the situation optimistic for the business world.  For instance, US-based VC's are helping student entrepreneurs to spur innovations. The idea is that many giants of the tech world were born during recession. Some investors also believe that situations like this, provide initiatives for innovations and creativity, for example, arriving at ideas to create masks or medical tools with the help of a 3D printer. Investors have also advised companies to have enough liquidity and be funded for the next few quarters and to have a tight control on burn rates since demand and supply chains are disrupted and are likely to continue for the foreseeable period.
In terms of funding deals, raising new funds is likely to take a lot longer, as investors will be assessing the macro environment before taking any decisions and many of them are expected to play it safe for a quarter or two at least in terms of new investments, instead helping out their existing portfolio companies at this time. This being said, investors are still on the lookout for new innovative solutions.
Effects of the Lockdown:
Despite the lockdown affecting a whole lot of businesses, some start-ups, and companies that were once facing difficulties and were not much focussed are thriving right now. For example, Pune based My Labs, which recently came in news was facing challenges in the past but now energized, is developing low-cost PCR (Polymerase Chain Reaction) kits for COVID-19 detection. Such instances bring upon the market equilibrium, said an Investor when asked about the outbreak.
Similarly, Hospitals, Healthcare, Life science start-ups are working hard and developing new solutions to tackle the pandemic with investors investing in them on a first principle basis. Coronavirus testing, vaccine development companies, and remote-based sectors have received much interest. Omidyar Network India, for example, announced a commitment of $1Million for COVID-19 relief.
Sector-wise many start-ups are witnessing an increase in business amid the pandemic. For example, video conferencing platforms are thriving in the market due to people working from home. Industries like online gaming, streaming, and online education/ Ed-tech are also benefitting.
They are supporting people by giving offers and making their interface more efficient, thus witnessing a significant increase in potential customers and time spent lavishly on their platforms. Adding to that, food, grocery, and medical delivery start-ups are experiencing high demand alongside the challenges of delivering the products. In the case of Insurance companies, they are seeing demand in health policies despite the challenge of adopting a fully digital model.
However, disruption of imports and exports, economic recession, cash liquidation have wreaked havoc on sectors like textiles, tourism, automobiles, etc. Also, because of the outbreak, investors feel that start-ups in sectors like travel, hotel bookings, convention organizers, retail, etc are some that might encounter difficulties in the near to medium term.
Optimistic opportunities for companies:
This pandemic has created better opportunities for certain companies in the foreseeable period. Some of them are,
Cleaning and Screening Companies: High demand for cleaning and screening to follow hygiene regulations, creates a way for new entrants in the market as well as for the existing companies.
Masks: Post COVID-19, It is likely for people to wear masks and buy new ones when going out, providing a chance for the mask -making companies to progress well.
Cybersecurity: With the Work from home policy and digitalization, hackers are having a great time playing around. Zoom, for instance, was in the news recently due to being data hacked. It is a game on for cybersecurity companies to build secure solutions, tackle down issues and protect breach of data and privacy of consumers.
Fitness: People are enjoying working out from home and taking measures to keep themselves fit and healthy amid the issue, which is a great chance for fitness companies to go virtual and do remote classes with exciting ideas.
Strategizing:
The essential task for companies for the smooth running of work is to internally strategize well on how to continue the business amidst the pandemic and find solutions to show traction and keep the interested investors duly informed in the case of funding.
TO THE FOUNDERS/DIRECTORS: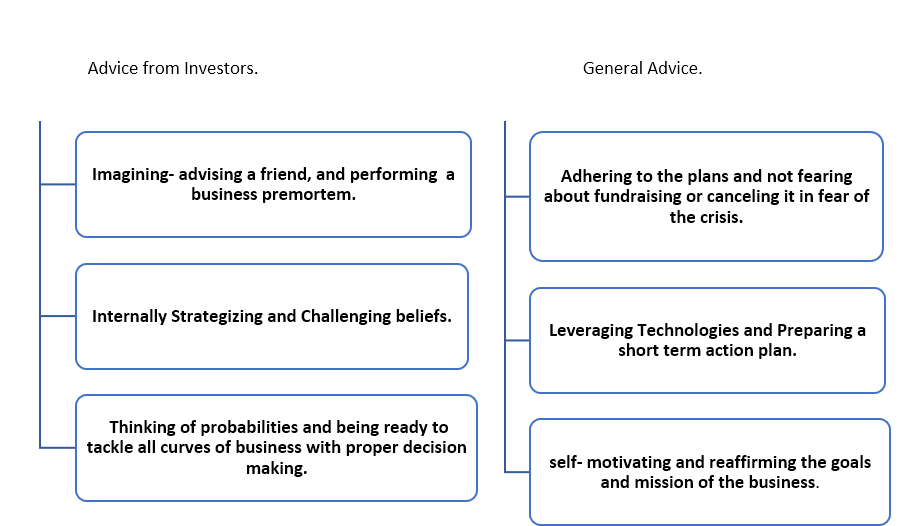 Government intervention in INDIA:
At the organizational level, MSMEs have requested the Government to provide strategic regulations for companies and start-ups to survive during the pandemic and after. NASSCOM has also put forth various suggestions to the Government, which can address immediate concerns like cash flow and taxation burden. Considering the situation, the Economic Affairs Secretary Mr. Chakraborty said the Government has factored in higher spending and will provide all necessary help for the recovery of the industries.
POST COVID-19 world:
Start-ups like WhatsApp, Uber, Stripe, etc, were found during (the year 2008-09) a global crisis. Likewise, this pandemic might also be a start for new entrants with creative solutions, new collaborations that are durable and resilient in the coming years.
Going digital: All industries are adopting digitalization and going digital for the efficient running of the business, which can be a boost factor post-COVID-19.
Cash, cost, and control: -(key recommendations)
"Cash is the king" It is Important to conserve cash and financially be wise to tackle down any crisis and to avoid liquidation issues.
Since using the remote-based applications that are cost-effective, it is good to outsource non-essential services to cut down on fixed costs.
Equalizing the demand-supply chain and reducing costs and building agility.
These paths are some thoughts on how industries and companies can evolve in the coming days. However, investors, business leaders and companies are doing their best to understand the situation and strategize for the (recovery of business) in "New normal" that is dawning upon us.