Overview of FoodTech
Let us assume that we are living in one of our favourite urban cities in India currently and we will continue to live there for the next few months. All our routines would be quite mundane, but the food we have every day is either made at home, eaten at restaurants, or is taken home from eateries by ourselves. There is no food order or delivery culture in the city we live in. How would all of us feel like? I am sure it's highly impossible for most of us. This is the influence of the FoodTech sector in our country.
The global FoodTech market is currently worth $234 Bn and is expected to witness a compound annual growth rate (CAGR) of 5.8% from 2022 to 2030. The industry is growing consistently for the convenience it brings in place to its customers for its product or service offerings.
Segments of FoodTech:
Food Delivery Services
Food delivery services in India are very popular in the digital age. But its history dates back to the year 1890. Back then it was called the dabbawallas, where the delivery men used to deliver food to workspaces. This was popular in Mumbai owing to the increased working population in the city.
The same idea of delivering meals to the doorsteps has been developed in the digital era. Thanks to the latest technology. The growth drivers for this business are,
Increased use of smartphones, pertaining to high-speed internet usage and availability at affordable rates.
The convenience of quick home delivery of meals and ready-to-eat foods plus the low cost of delivery.
The major customer base for this business is the young working professionals in urban areas of the country who don't find time to cook.
As per a study quoted by NY Daily news, Indians spend 13- 14 hrs a week cooking. By ordering food online, a person may save this time to use it differently.
The online food delivery market in India is estimated to grow at a CAGR of 30% and reach $1.5 billion for the forecast period 2022- 2026.
Grocery Delivery Services
Online grocery delivery services, aka online supermarkets in India have become popular lately. When the world was hit by the covid pandemic, people were forced to maintain social distancing. This seemed like a big opportunity for the new entrants to come in. Even the online food delivery players extended their services to deliver groceries and other home essentials.
Earlier these grocery delivery companies used to stock up products in warehouses and procurement centers (Inventory based model). When the orders were received, they used to deliver the next day. With piping competition, the companies in this segment started to deliver quickly in less than 10 minutes.
The market players are seeing growth potential and are continuing to invest in the latest technologies for effective operations, supply chain, transportation management, and better customer services. Easy returns and refund policy is one of the major reasons for customers to opt for these services.
The Indian online grocery delivery market is estimated to grow at a CAGR of 32.7% and reach $ 76 billion during the forecast period 2022- 2032.
Cloud Kitchen
 The concept of not cooking meals at home is increasing every day. People prefer to have home-delivered food throughout the day. The immense growth of this culture in fast-pacing life with increased disposable income, paved the way for cloud kitchens.
Cloud kitchens are those having a centralized kitchen where food is prepared and delivered across different locations. These kitchens provide takeaway options but do not have any dine-in place to eat. During the covid pandemic, people were panicking about going out to eat and preferred ordering food online. This has resulted in an increased number of cloud kitchens.
Currently, India has more than 3500 cloud kitchens. The forecasts also estimate high growth potential for this segment.
 The Indian cloud kitchen market is estimated to grow at a CAGR of 17.5% and reach $ 2.5 billion during the forecast period 2024- 2028.
Top Players and Investors in the Market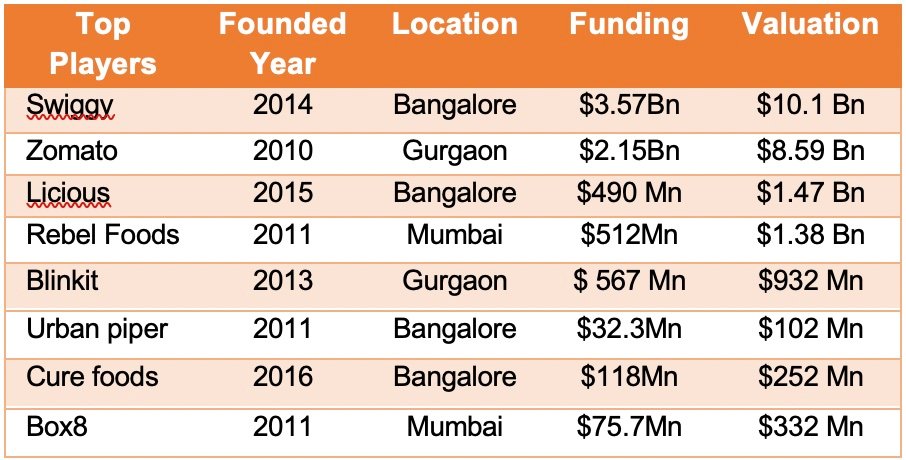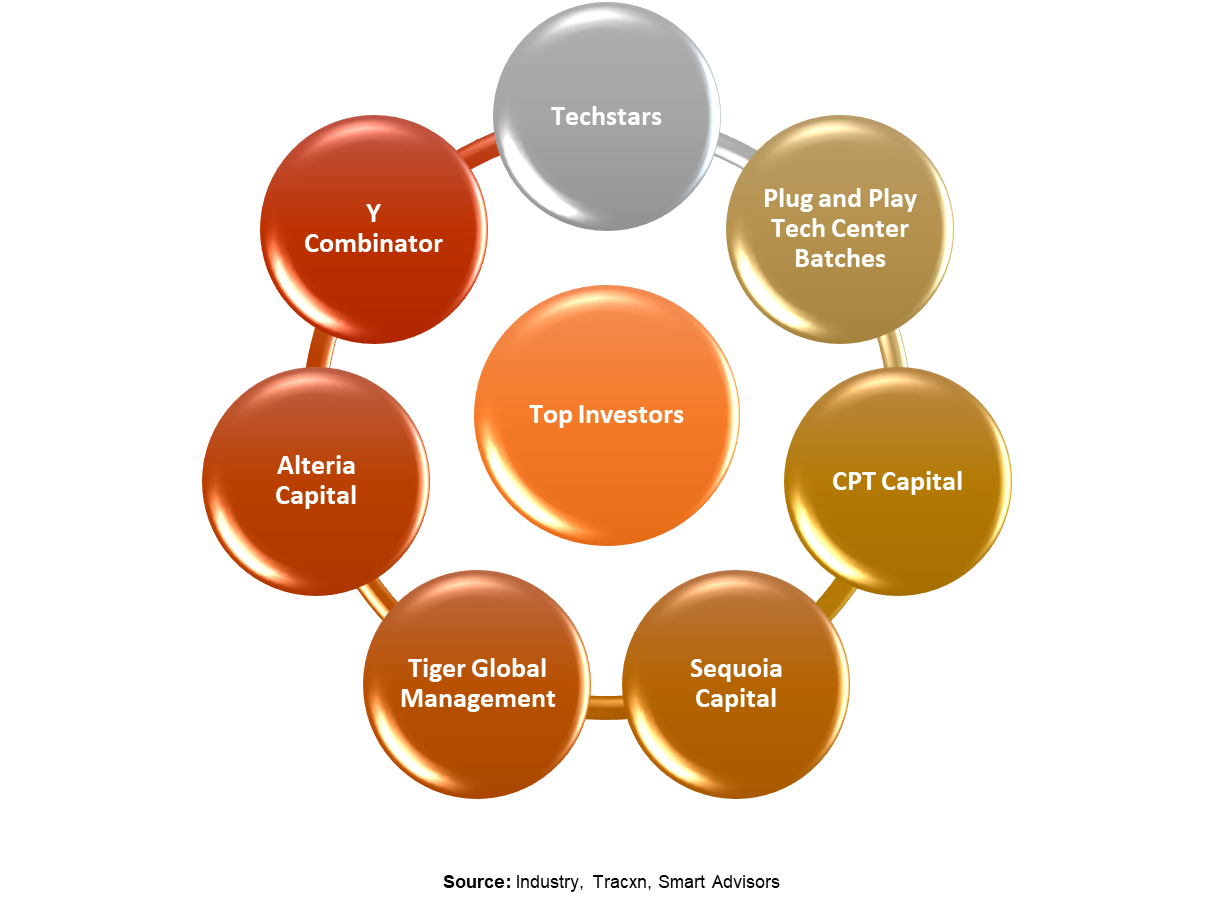 Major Revenue models
Food delivery services companies work on a 15% to 30% commission model. The other ways of revenue models for these companies include delivery charges, advertising, affiliate income, and through their membership plans (e.g.: Swiggy super, Zomato pro, etc).
The online grocery delivery companies work on an inventory-based model with small SKUs around the city to ensure fast delivery services. This way they have their private labels introduced which increases both their credibility and revenue based on profit margin. Other players in the market have tied up with local merchants to deliver the services. In such cases, the revenue is based on the commission and advertising. The revenue model for cloud kitchens are based on profit margin which is similar to a restaurant business.
Major M&As
India accounted for 175 M&A deals in the first half of 2022. This is double times more than that of the deals that happened in the same period the previous year and higher than the deals that happened in the last few years. Zomato's recent acquisition of Blinkit- instant delivery service for $568 Mn is India's third largest deal in the FoodTech sector. The same happened in June 2022. Moreover, Zomato has acquired 15 companies in the last few years. Curefoods- a multi brand cloud kitchen chain has acquired 14 companies over the last few years. Curefoods also merged with Maverix- a FoodTech company early this year.