Introduction
The insurance industry of India consists of 53 insurance companies of which 24 are in life insurance business and 29 are non-life insurers. Among the life insurers, Life Insurance Corporation (LIC) is the sole public sector company. Apart from that, among the non-life insurers there are six public sector insurers. In addition to these, there is sole national re-insurer, namely, General Insurance Corporation of India (GIC Re). Other stakeholders in Indian Insurance market include agents (individual and corporate), brokers, surveyors and third party administrators servicing health insurance claims.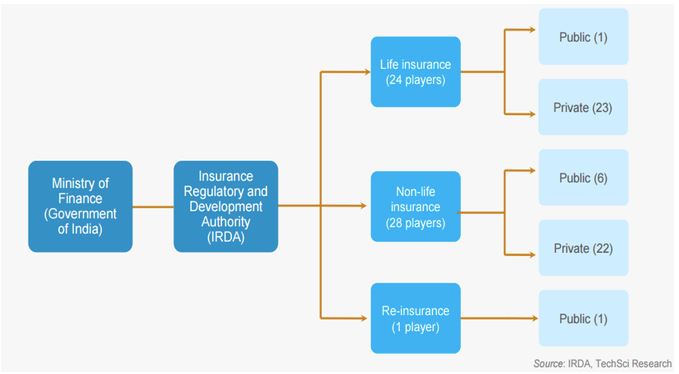 Out of 29 non-life insurance companies, five private sector insurers are registered to underwrite policies exclusively in health, personal accident and travel insurance segments. They are Star Health and Allied Insurance Company Ltd, Apollo Munich Health Insurance Company Ltd, Max Bupa Health Insurance Company Ltd, Religare Health Insurance Company Ltd and Cigna TTK Health Insurance Company Ltd. There are two more specialized insurers belonging to public sector, namely, Export Credit Guarantee Corporation of India for Credit Insurance and Agriculture Insurance Company Ltd for crop insurance.
Life Insurance
During April 2015 to March 2016 period, the life insurance industry recorded a new premium income of Rs 1.38 trillion (US$ 20.54 billion), indicating a growth rate of 22.5%. India's life insurance sector is the biggest in the world with about 360 million policies, which are expected to increase at a Compound Annual Growth Rate (CAGR) of 12-15% over the next five years. The insurance industry plans to hike penetration levels to 5% by 2020.
The country's insurance market is expected to quadruple in size over the next 10 years from its current size of US$ 74 billion. During this period, the insurance market is stated to cross US$ 160 billion in the next five years.
General Insurance
The general insurance industry-with 29 players- has mobilised a total premium of Rs 96, 402 Crore during the year against Rs 84,686 Crore in 2014-15. According to the figures released by the General Insurance Council, the private sector general players at Rs 39,701 Crore have recorded a growth of 13%, while the four public sector majors- New India Assurance, United India, National Insurance and Oriental Insurance) at Rs 47,717 Crore have recorded a growth of 12% during 2015-16.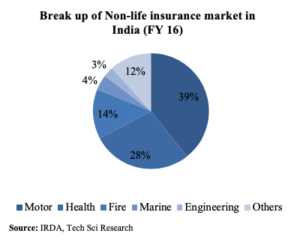 The four public sector general insurers at the end of 2015-16 have a market share of 49.37% in the industry, while the 25 private sector players, led by ICICI Lombard General Industry, have cornered a 49.37 % of market share since the industry opened up for them.
The five-standalone health insurers have witnessed their total premium rising by 41% to Rs 4153 Crore and have a market share of 4.08% during 2015-16. Specialised insurers like ECGC and Agriculture Insurance Company (AIC) at Rs. 4,830 have clocked a growth of 18% and have a market share of 5.16% during 2015-16.
The motor portfolio at Rs. 38,137 Crore (Rs 19,071 Crore in own damage segment and Rs 19,066 Crore in third party segment) has contributed the maximum premiums in the general insurance industry. Next to motor segment, Health Portfolio at Rs. 22, 060 Crore is the second largest business segment in the industry during the year.
The Indian insurance market is a huge business opportunity waiting to be harnessed. India currently accounts for less than 1.5% of the world's total insurance premiums and about 2% of the world's life insurance premiums despite being the second most populous nation. The country is the fifteenth largest insurance market in the world in terms of premium volume, and has the potential to grow exponentially in the coming years.
Online Insurance Industry
The online insurance sale market in India is already is in excess Rs. 6,700 Crore today, and growing fast. Life insurance sales contribute approx. 2,000 Crores, motor insurance approx. Rs. 2,300 Crore, while other insurance lines such as health and travel make up approx. Rs. 2400 Crore.
Online life insurance sales are expected to grow to 3-5% of the individual annualised new business premium by 2020; and non-life insurance sales are expected to grow to 15-20% of non-life retail business.
This means that online insurance sales market in India will be around Rs. 25,000 to Rs. 35,000 Crore for life insurance and around Rs. 100,000 to 125,000 Crore for non-life insurance; a total of Rs. 125,000 to 160,000 Crore, up by over 20 times.
In India, the digital influence in insurance sales is already 12% for life insurance, 14% for health insurance, 10% for motor insurance and 19% for travel insurance.
This amounts to Rs. 7,000-8,000 Crore of new insurance sales influenced by digital today. It is estimated that the digital influence in insurance sales to grow to 50% for life insurance and 75% for non-life insurance by 2020.